Corrosion Services Staff
URIEL OKO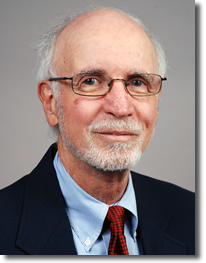 Dr. Uriel Oko is the proprietor of Corrosion Services. With more than thirty years of experience in various facets of metallurgical, environmental and chemical engineering, he offers depth of knowledge and design capabilities. He graduated with bachelors and masters degrees from McGill University, Montreal, Canada and a Ph.D. in metallurgical engineering from the University of Missouri, Rolla.
Dr. Oko began his working experience as a student co-oping as a mill hand with Quemont Mining Corporation, Rouyn-Noranda in Northern Quebec. Upon graduation, he worked for the Canadian National Railways. During more than four years with Supreme Precision Castings, Montreal, he supervised the metallurgical investment castings foundry. He then worked for International Investment Castings in Belleville, Ontario before attending graduate school.
Upon graduating with a Ph.D., Dr. Oko returned to the mining industry, working for Falconbridge Nickel Mines Corporation in Sudbury, Ontario. He then joined the Acres Consulting Group and moved to the United States. He worked for Union Carbide Linde Division as a metallurgical engineer developing the PUROX system for converting domestic refuse into combustible gas. After four years with Union Carbide, he joined Cities Service Oil Company where he developed several processes for converting heavy oils and coal into gasoline. When Occidental Petroleum purchased Cities Service, Dr. Oko was engaged in problems related to deep well drilling and enhanced oil recovery.
Dr. Oko moved to Albany, New York in 1990. He obtained NACE qualifications as Senior Corrosion Technologist in 1996 and commenced a consulting practice. His projects include cathodic protection of tanks, concrete structures and water mains. His clients include industrial and commercial enterprises as well as numerous attorneys who call on his chemical engineering and metallurgical expertise.
Dr. Oko is a Lab Associate with The M&P Lab. View the company brochure (PDF format).
Dr. Oko is an author of five patents and numerous scholarly articles on the production of alternative fuels from coal and fuel cells. His two most recent publications explore the removal of PCBs from the Hudson River. He has also published articles relating to disposal of mine spoils and water purification.
During the last several years, Dr. Oko has given presentations to numerous forums of northern New York engineering societies on the topic of cathodic protection of steel in concrete, soil, and structures such as geothermal wells, water tanks and sewage plants.
CLAYTON J. FULLER
Clayton Fuller is CEO of North County NDT, with more than 24 years of industrial experience. He worked for more than 10 years first as a technologist and later as certified nondestructive inspector serving paper mills, hospitals, gas stations and tank farms. Prior to 2000, he worked as a millwright and a welder.
Clayton is a Federal Aviation Administration (FAA) small unmanned aircraft pilot per CFR 14 rule 107.
ERIC SCHWARTZ
Process and Controls Engineer: Fuel Depots, Municipal Water/Sewage Systems
Mr. Eric Schwartz provides process services for the municipal water and waste industries, commercial gas stations and fuel depots. Services include chemical and petroleum bulk storage, environmental controls and monitoring, dosing systems, water quality and outfall monitoring and sampling systems, radio telemetry feasibility studies, radio telemetry systems, and process automation. Eric also programs PLC and microprocessor based controllers, and SCADA/HMI PC monitoring stations, specializing in Allen-Badley control products and Citect SCADA and HMI software.
With more than twenty years experience in chemical and systems engineering, Mr. Schwartz provides municipal services with turnkey automatic control services. He will take a project from design and specification through bid execution, procurement, contract installation, construction supervision, instrument calibration, systems start-up and turnover. His expertise includes chemical dosing systems, bulk chemical storage and distribution, chlorine monitoring and scrubber operations, control equipment installation including panel designs, filtration and chemical storage. Mr. Schwarz has been providing field installation supervision of water plants, gas stations, fuel depots and sewage systems and followed the installation with successful startup and hand-off to operating municipal personnel.
Mr. Schwartz is a Sr. Member of the American Institute of Chemical Engineers (AIChE) and a member of the International Society of Automation (ISA) where he served seven years as president of the Eastern New York Section. He graduated from the University of Maryland in chemistry (honors program) and chemical engineering.
PAUL ST. JOHN
Paul St. John is an independent concrete consultant with expertise in failure analysis, mixtures design and specification development. Major clients include:
Big Dig, Boston, MA - specifications review, road and bridge evaluation and repairs
Department of Environmental Protection, New York City - water tunnel and water pollution control plants
Department of Design and Construction, New York City - specifications for infrastructure
IBM, Essex Junction, VT - bridge evaluation and specifications
Mr. St. John served in the Materials Bureau in the New York State Department of Transportation (DOT) in Albany, NY in two major capacities. He held a position as a Civil Engineer as an expert in petrographic evaluation of concrete, quality assurance of aggregate, cements, and sand, and mix specifications to match life cycle performance requirements. He also served as an Engineering Materials Analyst with several areas of responsibility:
Engineering Geology: Petrographic analysis, aggregate source approvals and aggregate quality investigations
Chemistry Laboratory: Testing cements, sand rational analysis, aggregate identification by staining methods, and insoluble residue testing and evaluation
Concrete and Aggregate Laboratory: Aggregate identification, freeze-thaw analysis of losses and general concrete testing
Mr. St. John gained a reputation in soil mechanics by serving as a Principal Engineering Soils Technician in the New York State DOT, Soil Mechanics Bureau in the Soil Mechanics Lab. In this setting, Mr. St. John was a technician responsible for geotechnical monitoring instrumentation for field performance of foundations, earth slopes, embankments and substructures, and on-site testing of soils.
Mr. St. John is a member of the American Concrete Institute (ACI) and serves as an associate member of the ACI 342 Committee on Evaluation of Concrete Bridges and Bridge Elements, and a member of the ACI 345 Committee on Concrete Bridge Construction, Maintenance and Repair.
DAN YAROM
Dan Yarom is the Owner and CEO of C.D.S.P. Corporation of White Plans, N.Y. Mr. Yarom specializes in all htmlects of installing and maintaining underground storage tanks for gasoline stations. A former owner of more than 20 gas stations in Brooklyn and Long Island, Mr. Yarom established C.D.S.P. Corporation in 1987 to serve gas stations in the New York City, Long Island and Westchester County (Yonkers) Metropolitan Areas.
Mr. Yarom has more than twenty years of consulting and hands-on expertise in:
Underground storage tanks installation
Underground storage tanks testing for leaks
State I and II vapor recovery testing and installation
Installation and testing of cathodic protection systems (sacrificial and impressed current anodes)
Environmental remediation (Phase I, II and III)
Installation and maintenance of controls, alarms, and data recorders for gas stations and fuel depots
C.D.S.P installs, maintains and inspects pipes, tanks, vapor recovery and cathodic protection systems. It owns a vacuum drilling rig and light duty excavation equipment designed specifically for easy access to gas stations that are located in congested city environments.
Selection of Municipal Clientele
Village of Hudson Falls, NY Water Department
Clifton Park, NY Water Authority
Glens Falls, NY Water Department
City of Albany, NY Water Department
Town of Guilderland, NY Water Department
Town of Marcy, NY Water Department
Town of Bethlehem, NY Water Department
Selection of Industrial Clientele
Atlas Copco Comptec LLC Compressor Systems
Smith Control Systems
Regeneron Pharmaceuticals
C.T. Male Associates, P.C.
Schenectady International
Sterling Organics
ICI Resins
Hercules, Inc.